Anouk Vetter in action at the World Athletics Championships Doha 2019 (© Christel Saneh)
When 2016 European heptathlon champion Anouk Vetter took to the long jump runway at the Dutch indoor championships in February this year, she was unusually nervous. There was much at stake.
After a golden few years of medals and national records, 2019 had been the hardest period of her career. Injuries, doubts and falling out of love with the sport that had made her a household name in the Netherlands.
But little by little, Vetter pieced it all back together. Little goals, delivering big results. She approached the 2021 indoor season with trepidation but departed with another title and some big PBs. Anouk Vetter is back in the game.
Back in the game
"I was quite nervous," says Vetter of her long jump. "It was my first competition in a long time. I was pleased with the results, but also about how I felt as an athlete. I could enjoy it. Six forty-two. That's good. And it's good for outdoors because long jump is such an important event in the heptathlon.
"I was pleased with my PB of 8.21 in the hurdles. It's nice if training goes well, but if you do well in competition, that's good. It motivates me. I'm back in the game."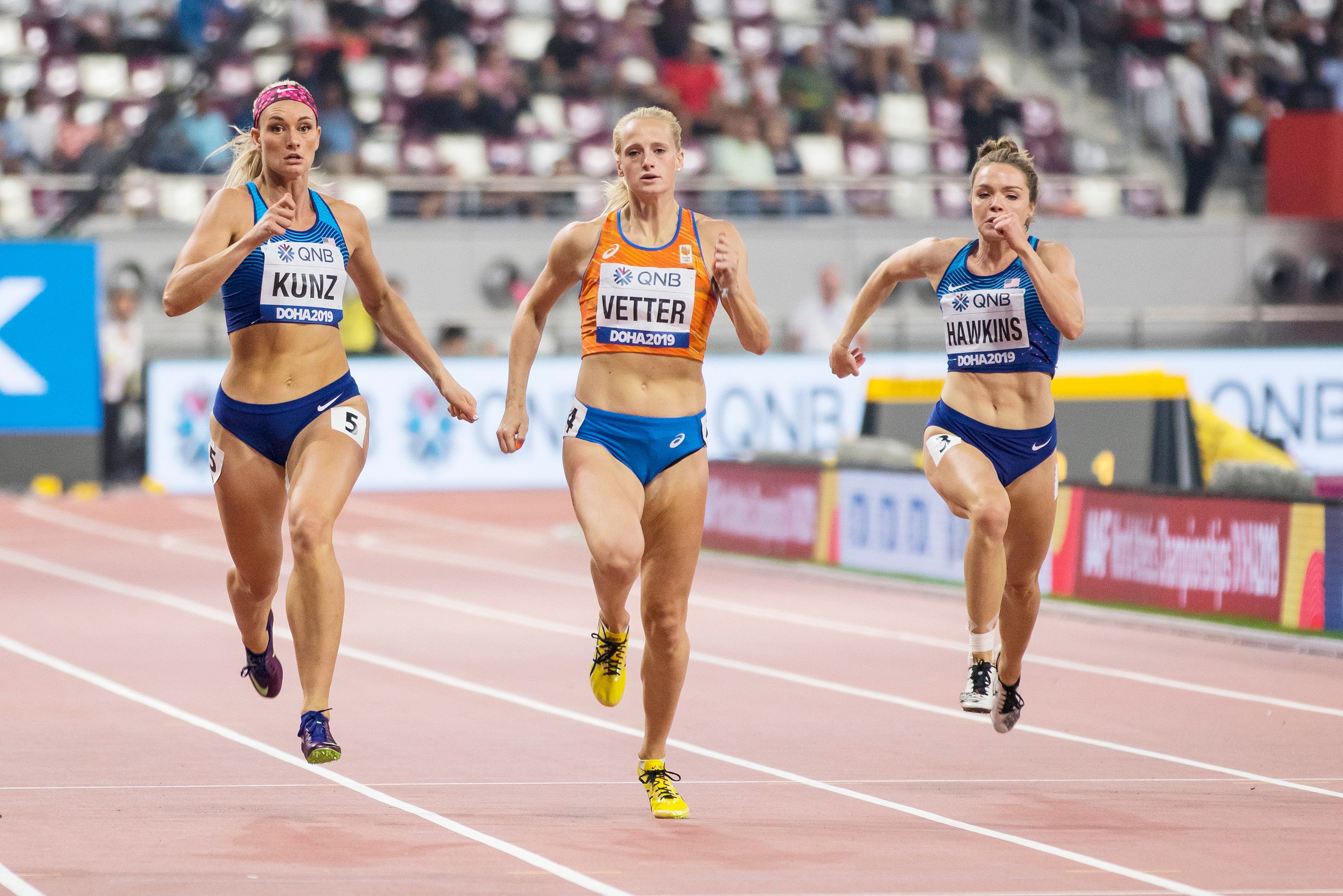 Anouk Vetter in the heptathlon 200m at the World Athletics Championships Doha 2019 (© Christel Saneh)

Vetter has been in the game for a long time, although she is still only 28. She started her career in the European and world age-group championships of 2011-13 but injury got in the way of all of those competitions.
"When I was 20, 21 I was really struggling because I was always injured," she says. "When my training group was training 100%, I always did 70 or 80%, otherwise I was broken at the end of the week."
Overwhelming success
Vetter, with her coach and father Ronald Vetter, worked out a training strategy to nurture her body and channel her strengths. She made her Götzis debut aged 21 in 2014, and her career then took off on an upward trajectory. Gold at the European Championships in 2016 on home soil, followed by her first Olympics in Rio and bronze at the World Athletics Championships in London in 2017 with a national record of 6636 points. But the success caught Vetter by surprise.
"In 2016, I saw myself as a talent, but suddenly I was European champion and became a famous face in sport in Holland. And I was scared," she says. "I did a good job in Amsterdam, but then a week after I thought, I need to do it again. I never expected to perform that well. So, it was quite overwhelming."
Pressure can be an effective force when conditions are positive, but corrosive when things aren't going so well. Vetter's success continued into 2018 with fourth place in Götzis and fifth place at the European Championships in Berlin, but then the strain started to take its toll. In 2019, she was unable to finish her combined events competitions at the European Indoor Championships in Glasgow, Decastar in Talence and the World Championships in Doha.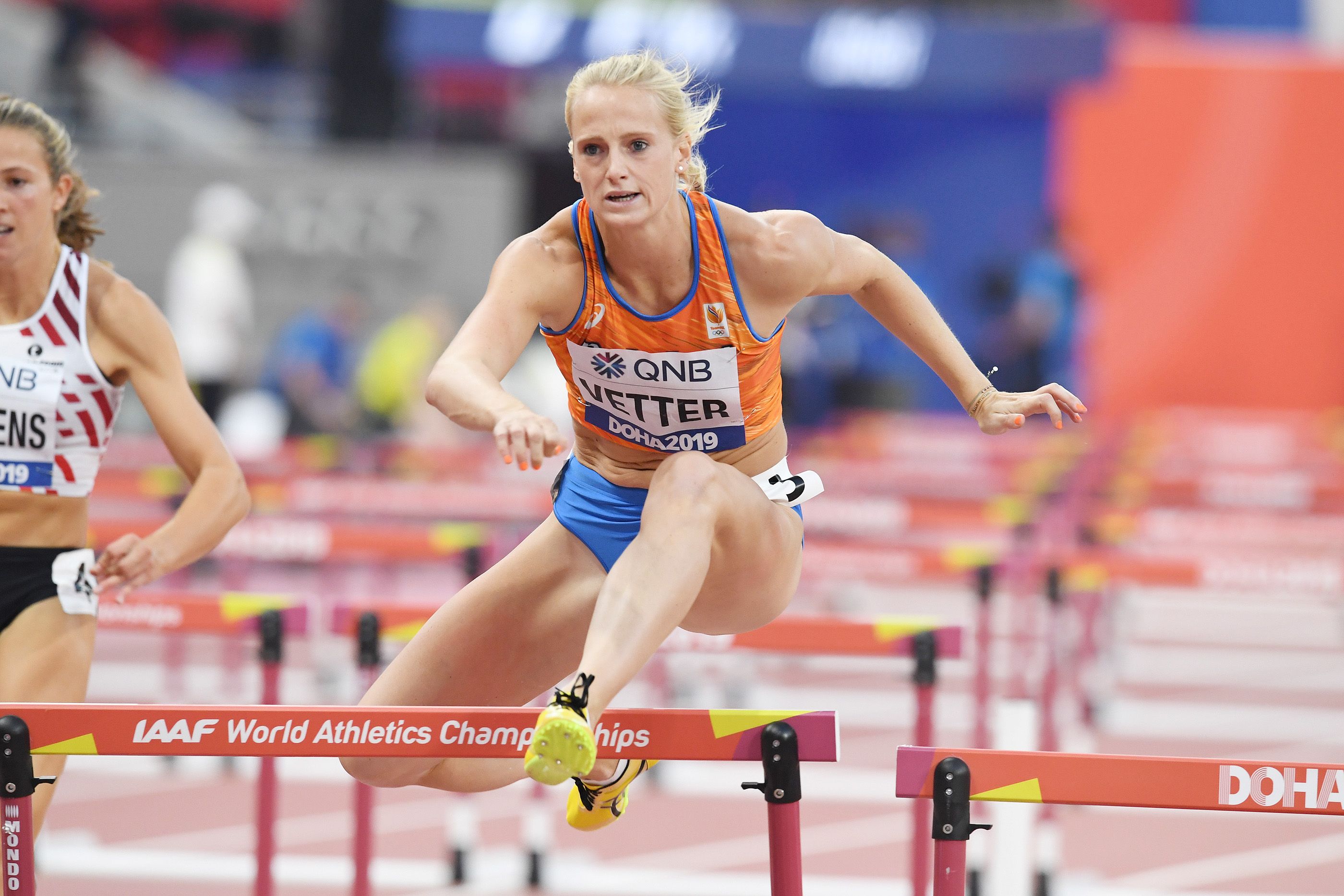 Anouk Vetter in the heptathlon 100m hurdles at the World Athletics Championships Doha 2019 (© Gladys Chai von der Laage)
"Of course, I had physical injuries with my knee," she explains. "But it was more than that. I was putting too much pressure on myself. I had a hard time enjoying athletics, and I had a battle inside my head. If you hurt your hamstring, you ask how long it takes to recover. But with emotions, I didn't know how long it would take to recover. And it was hard to talk about. I was asking myself – what's wrong with me? Am I still a good athlete?"
After Doha, Vetter took several months for herself away from the sport, trying out new activities including surfing. But as the – then – Olympic year dawned in 2020, she returned to athletics, and travelled to the national training camp in Stellenbosch.
"It was a bit scary because it was only going to be athletics in Stellenbosch," she recalls. "But I had so much fun. For the first time in a long time, I could recognise myself again. And things got better. That was the moment I realised I had found balance."
Little goals, big results
The training camp in South Africa was successful, and prospects looked good when she returned home. But then the coronavirus pandemic arrived and plans for Vetter's big comeback were put on hold.
"We went to the forest and did a lot of hill sessions. It's not like doing hurdles on the track, but I enjoyed it. After the Olympics were cancelled, the Europeans were still on the programme. So, I was like – okay, we're going to Paris! And I was really motivated for that. But that was also cancelled," she says.
"So, to keep motivated, I made myself little goals. Little training or monthly goals, so that I could see progress. That helped me a lot. Just to focus on those goals and technical points. And then you see the results."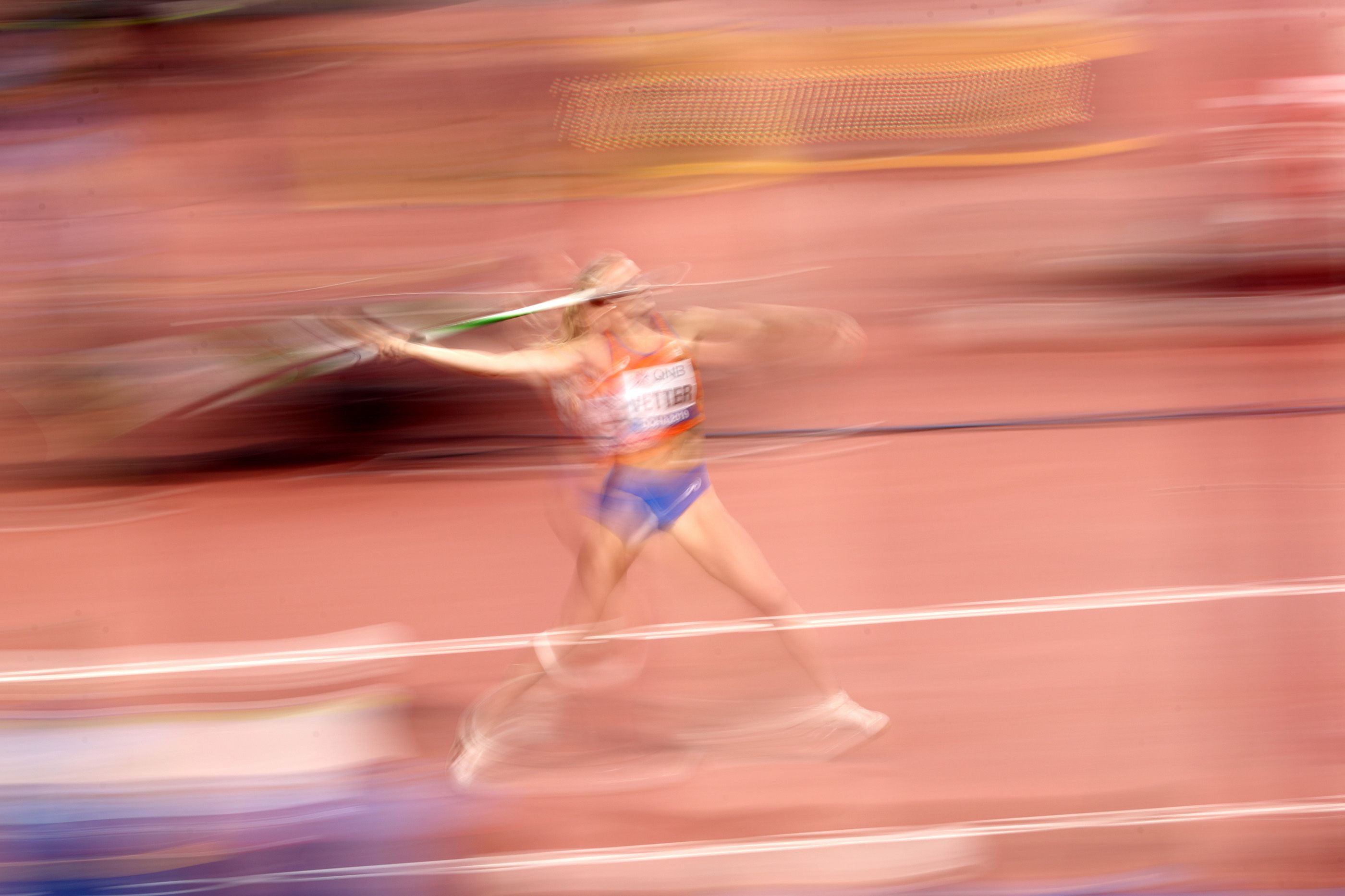 Anouk Vetter in the heptathlon javelin at the World Athletics Championships Doha 2019 (© Maja Hitij / Getty Images)

The big results came in February 2021, but Vetter now can't wait to get outdoors. "It's nice to do the long jump and hurdles, but I am a heptathlete. I want to do shot put and running, because otherwise I get a little bit bored. I need the variety."
Vetter is strong across seven events, but she is dominant in the throws. Her shot put PB is 16m, and her javelin PB of 58.41m is only exceeded in a heptathlon by Nafi Thiam's 59.32m from Götzis 2017, and specialist Barbara Spotakova's 60.90m from 2012.
"If people have to guess my best events, they never guess shot put or javelin," Vetter adds. "I hope I can inspire that you don't need to be big to throw far. You can be really strong and technically good, and I hope I'm a role model for that."
The complete athlete
Vetter's next challenge will be to seek Olympic qualification in Götzis at the end of May, since she currently has neither the qualifying score of 6420, nor a place in the world rankings. The tough physical and mental battles of 2019 mean that she is much better equipped to pursue that goal and tackle the next phase of her career.
"I'm going well right now, and I'm feeling happy," she says. "But a year and a half ago, it was different. And it's good to share that too. I follow Jazmin Sawyers – the British long jumper – on social media and I think we need more women like her, sharing when things aren't going so well, as well as good results. That's really important for younger girls. I hope I can do that a little more.
"Physically, my body's getting stronger as I get older. And mentally, what I know now that I didn't then is that lots of athletes struggle. My problem was I saw it as a weakness. The best lesson I learned is not to be too hard on myself. And I'm a more complete athlete as a result."
Gabriella Pieraccini for World Athletics